Pergola Sizes Guide For Your Outdoor Space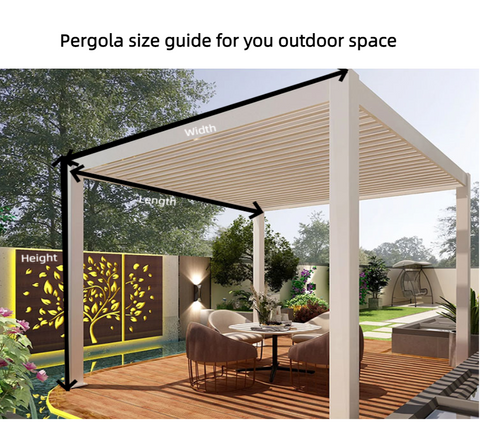 Pergolas are a versatile addition to your living or outdoor space and every unique size of pergola functions as a stunning shade structure for your sitting area. The pergola size for your outdoor space depends on the needs that you want to fulfill with the standard size and your desire.
To choose the perfect pergola for your outdoor space, here is the ultimate pergola size guide that will help you choose the standard pergola size that fits your space and let you enjoy it comfortably. Let's get started!
Pergola Size Guide
Standard Size(ft')
Width
Height
Size
8
8, 10
8x8, 8x10
10
10, 12, 13, 14, 20
10x10, 10x12, 10x13, 10x14, 10x20
12
12, 14, 16, 20
12x12, 12x14, 12x16, 12x20
16
16
16x16
20
20
20x20
Here is the ultimate size guide for a pergola that will let you choose the pergola according to your requirements. For instance,
For small gatherings, a 3x3 meter size is typically used.
If you want to place 2 to 4 chairs under the shadowy structure of a pergola, then 10x12 ft sizes are ideal.
If you want to use your pergola for outdoor dining, 10x14 ft sizes should be standard for placing a maximum of up to 6 chairs.
For combining functions, outdoor dining, and moderate gatherings, 12x12 ft is the perfect size to install.
For large gatherings, like couches or swigs, you can choose 12x16 ft or larger than this size can be used for this purpose.
Size Guide For Small Decks And Patios
 If you have a small deck or patio and want to create an outdoor eating and dining space, you may choose a pergola of the 10x10, 10x12, and 10x14 sizes. However, these sizes let you place a few chairs and a dining table in an outdoor space. The largest pergola that you can choose for your small patio or deck is 12x12.
Standard Pergola Size For Large Decks
For a large deck, you need to choose the largest pergola size that is 12x16 or larger than this, doesn't look out of space, and lets you add more charm to outdoor space by placing entertaining furniture, like pit fire or swigs.
Ultimate Size Guide For Backyards/Garden
You can add a pergola to your backyard of your choice which you consider best fit for your needs. For instance, you can add the smallest size of the pergola of 10x10 or even the largest 16x24.  The size of the pergola for the backyard depends on the function that you want from it if you want only a small living outdoor space, then the smallest pergola is the best to choose.  Moreover, large pergola dimensions can let you enjoy the outdoor dining table or outdoor kitchen.
Pergola Size Buying Guide: How To Choose the Right One
How to choose the right pergola that fits in the required space and offers comfort? It depends on the two main things that you need to consider.
 Consider Location
When selecting the size of your pergola, the location should be your first priority. The size of the pergola you should purchase depends on where it will be placed. You should select a smaller pergola that is no larger than 12 × 12 if you know you will be installing your pergola on a tiny deck or patio. However, if you want to fit a pergola for larger decks or for yards, your pergola size selection could be large to meet your requirements. So, before choosing the perfect size, you need to consider the location in your house or outdoor space to check which size can fit in this space well without disturbing the outdoor view.
Furniture
 What type of furniture you are interested to put within the pergola? It is the most important factor to consider before installing a pergola for your house.  You should first consider the furniture shape and size which you want to place within the pergola. Your furniture selection will help you choose the perfect pergola size that doesn't overlook your space and does even not hinder the natural outdoor view.
What Size Height Should A Pergola Be?
A pergola can be eight, ten, or twelve feet tall. The height of the pergola should be determined by its size and location.
The height of the attached pergola, which may be 8 feet, 9 feet, or 10 feet tall if installed on a back patio or deck, should be the same as the ceiling of the home or other building to which it is attached.
When installing a freestanding pergola in your garden or backyard, you should pick a height that fits the size of the structure. Here is the height guide for popular pergolas size:
8 to 10-foot ceiling is standard for 10x10, 10x12, and 10x14 pergola sizes.
A minimum 10-foot ceiling is standard for 12x12 and 12x16 pergola sizes.
Moreover, a 12-foot ceiling is ideal for 16x16 or larger than this pergola size.
Top-Selling Pergolas Types
 Bodhi Pergola & Lehigh Swig Set
 One of the best top-selling pergolas is the bodhi and Lehigh pergola which is available in various sizes, 10x10, 10x12 12x12 making you fit pergola for small decks, large decks, and for yards.
Pergola With Deck And Swing Hangers
You may add a swing to the pergola because it features swing hangers and a deck foundation. They are available in different sizes of this smaller pergola: 6 x 8, 8 x 8, and 8 × 10. Additionally, you have the choice of adding pergola curtains!
Let's explore a few famous pergola types that you can choose for your house!
Freestanding Pergola
A freestanding pergola is precisely what the name implies: a pergola that stands apart from your home as a landscaping feature. This kind of pergola can be used in your garden, next to the pool, or to create an outdoor living area that is set apart from your home.
Attached Pergola
In this design, a wall of your house serves as the primary support for one side of the pergola. If you wish to cover a space that is attached to your house, such as a deck or patio, you can utilize this design. Instead of being a stand-alone element, a linked pergola may make an outdoor living area seem like an extension of internal space.
Louvered Pergola
A pergola with louvers uses moveable louvers as rafters rather than the typical slats. The louvers can be opened and shut as needed to let in more or less sunshine. Louvered pergolas come in manual and automatic varieties.
 Awning Pergola
Small pergolas in the awning form can be supported just by the wall; no columns or supports are necessary. You can erect an awning pergola over a window, entrance, or garage for beauty and shade.  You can also add flowering climbing vines or any covering for more shade.
Final Thought
 The above-listed guide for pergola sizes can let you choose the best-fit pergola for your outdoor living space.  Your location and furniture choices also affect the pergola size and selection.  However, the pergola functions and your desires for placing different furniture within it let you choose various customized sizes.